NECINA 20th Anniversary – Annual Conference
Session I:
NECINA 20TH ANNIVERSARY - ANNUAL CONFERENCE
"TECHNOLOGY AND QUALITY OF LIFE"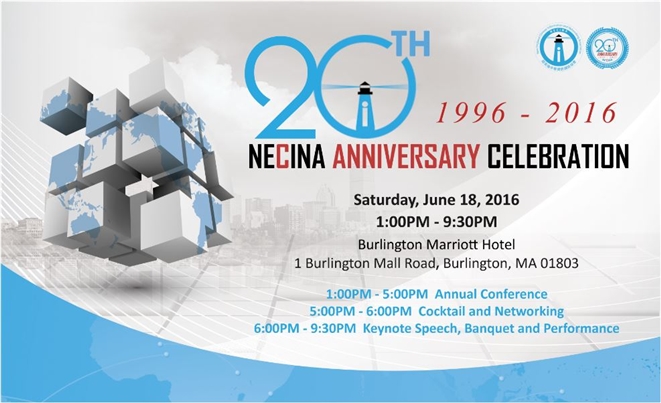 Overview
We are surrounded by new technologies every single day. We hope they will make our lives simpler and yet it seems like every new gadget is making our lives more occupied. Our eyes are glued to the phones even when we are around our loved ones. We use all kinds of Apps to make us look busier, get to point B faster. Are we still doing the right things? Are we pushing the right buttons?

NECINA, as a proud professional organization, has seen its own shares of new technologies created by its own members. Most of these technologies are making a positive and profound impact to us. 2016 is 20th birthday of NECINA. We want to use the special occasion to celebrate what we have created, and pause a moment to reflect, and start the next decade on the right foot.

On June 18 we are glad to invite a group of elite founders, entrepreneurs and friends with their visions aligned to ours. We want to have a great discussion on how to use Technology to improve our lives, to leave a long lasting impact to the community and to the world that is nurturing everybody.

After the annual conference, we will also have VIP dinner and special performances. It is another great opportunity to network with special guests and listen to their stories! Come to celebrate NECINA 20 years with us. Join our conference and also check out our VIP dinner and performance event at night.
Afternoon Conference Agenda
12:30pm-1:00pm Registration/Light Refreshment provided
1:00pm-1:05pm Opening Remarks of "Technology and Quality of Life" conference
1:05pm-1:25pm "Navigating Through the Next ICT Waves" - Cheng Wu (Founder of Arris Networks, ArrowPoint Communications, Acopia Networks, Azuki Systems, APL-Soft, NECINA
1:25pm-1:45pm "Emerging Technological Powerhouses in the world" - Robert Yung, Partner at Walden International, Former Executive Vice chairman and President of Da Jiang)
1:45pm- 2:05pm "Averting Energy Catastrophe" - Matt Nordan, Partner @ MNL Partners
2:05pm- 2:25pm "Foster Female Entrepreneurs and Leaders" - Bobbie Carlton, Founder, Mass Innovation
2:25pm- 2:45pm "EventDove Story" - Jun Chang, founder of EventDove, acquired by Hui Tang in 2015
2:45pm- 2:50pm Coffee break
2:50pm- 3:10pm VC Fireside with Quan Zhou of IDG China
3:10pm- 3:30pm "Adelphic Mobile and beyond" - Jennifer Lum, Cofounder @ Adelphic Mobile
3:30pm- 3:50pm "Personal Observation of Entrepreneurship, a Three Step Approach" - Lingping Gao, CEO NetBrain
3:50pm- 4:10pm 2015-16 President's Report (John Wang)
4:10pm- 4:30pm 2016-2017 President and Program Overview (Tony Tian)
4:30pm- 4:35pm Quick Officer Group Recognition and Group Photo
4:35pm- 5:00pm Networking / VIP Dinner Registration and Cocktails begins
Conference Speakers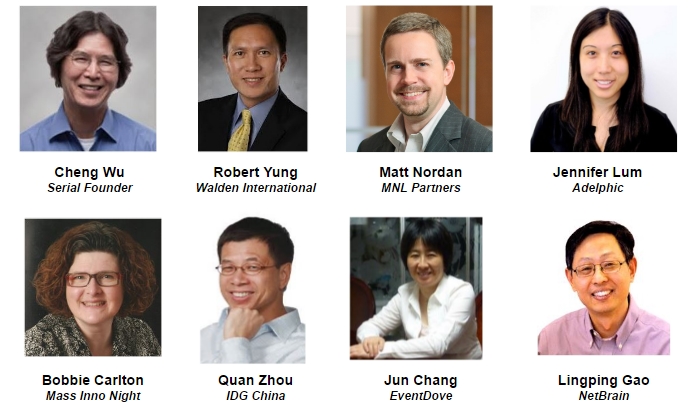 Conference Organizers
Tony Tian:tony. tian@necina.org
Andy Li: andy.li@necina.org
Haiyang Li: haiyang.li@necina.org
Conference Speaker Bios
Session II:
NECINA 20TH ANNIVERSARY CELEBRATION BANQUET
Agenda
5:00pm-6:00pm Cocktail networking, special slide show - NECINA's 20 years
6:00pm-6:30pm Ballroom open for seating
6:30pm-9:30pm 20th anniversary celebration banquet
Hilights
NECINA funding president Wufu Chen and Cheng Wu will co-address the opening remark.
Keynote Speech
Dr. Rosalind W. Picard, Professor of Media Arts & Sciences, MIT, and Co-founder and Chairman, Empatica
Topic: Emotion Technology for a Better Life
Technology is being given the ability to measure emotion. This talk will highlight some of our most surprising findings using wearable sensors to improve lives. Our adventures include measuring autonomic stress, helping people with autism to be better understood, and finding surprising patterns that can detect seizures. Our next ambitious goal is to forecast mood and happiness, as part of a novel effort to improve mental health and wellbeing.

Performances by professionals and NECINA officers
Newly made movie with NECINA feature stories
Award ceremony by former NECINA presidents, officers, sponsors, youth program, etc.
Evening Speakers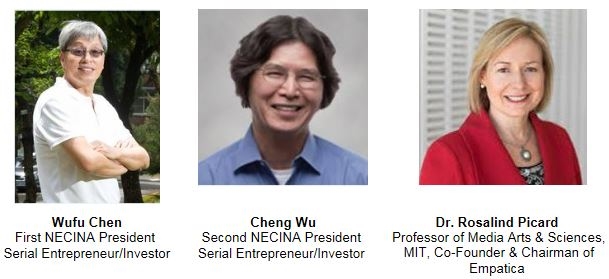 Evening Speaker Bios
http://necina20anniversaryannualconf.eventdove.com