NECINA 2019 Annual Conference - Digital Transformation ABC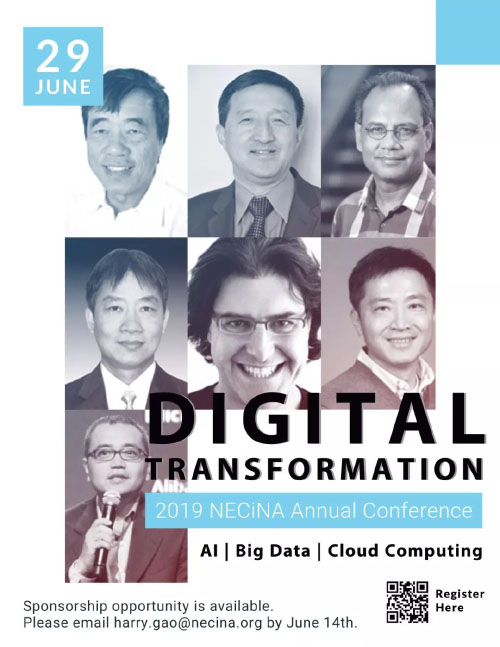 Description
Technology develops fast and coins our world in unparalleled ways. Among all current technology revolutions, digitalization may be the most significant driver for its huge impacts on business operation, manufacture, consumption as well as the fundamental technology innovation and evolution.
Partnering with the World Economic Forum, Accenture published a white paper in 2016 which dived into a Digital Transformation of Industries (DTI) research and estimated that digital transformation could deliver around $100 trillion in value to business and society over the next decade.
However, digital transformation can be both an omnipresent phenomenon and an intangible concept relevant to a wide range of cutting-edge technologies. And it represents not only new opportunities for value creation but also poses new risks on management and regulation across multiple aspects of the society.
Therefore, to better understand the digital transformation trends and boost meaningful cross-domain conversations, NECINA is going to hold our 2019 Annual Conference on the upcoming June 29th, under a theme of Digital Transformation ABC - AI, Big Data, and Cloud Computing. We estimate that these three technologies will be the most crucial components of digital transformation that many businesses and organizations should care in order to sustain their places in the market.
What will be covered at the conference
Themed as Digital Transformation ABC, the 2019 NECINA Annual Conference will mainly put the spotlight on three technologies - Artificial Intelligence, Big Data, Cloud Computing - and their various applications in different industries such as Biotech / Healthcare, Finance / Fintech, E-commerce / Marketing and so on. We will consider not only the technology itself but also the market and the whole ecosystem.
Potential topics that will be discussed at the conference include but are not limited to:
What is the roadmap to a digital future?
How will customer relationships be digitalized?
How to cultivate digitalization-savvy talents and build digitalization organizations?
How to harness big data and advanced computing technologies.
What do digitizing operations and automating processes require?
Who will participate in the conference
At previous NECINA annual conferences, panelists and attendees from top-tier scientific research institutions, influential global conglomerates, and the most innovative startups had generated and enjoyed great discussions and knowledge exchanges.
This year, NECINA will also invite industrial experts, academic leaders and consulting veterans who have sufficient experience and deep understanding of the recent digital transformation to the conference. We welcome diverse insights and hope to build an open community that connects different thoughts and professionals together.
2019 NECINA Annual Conference Agenda
June 29, 2019
Radisson Hotel, Chelmsford, MA
9:00 – 9:30 AM Registration open. Business Showcase set up
9:30 – 9:35 AM Open remark
9:35 – 10:20 AM. Keynote speech: by Prof. Shan Lu, MD, Ph.D. MBA, UMASS Medical School
10:20 – 10:50 AM Presentation by Dr. Subrata Das, Alphaserve Technologies
10:50 – 11: 20 AM Presentation by Dr. Albert Ma. Hentian
11:20 – 11:50 AM Presentation by Dr. Sandro Catanzaro, DataXu
11:50 AM – 1:15 PM Lunch, Business Showcase
1:15 – 2:00 PM Keynote speech: Prof. H. T. Kung, Harvard University
2:00 – 2:30 PM Presentation by Mr. Andrew Zhang, IBM
2:30 – 3:00 PM Presentation by Dr. Jason Geng, IDEAS
3:00 – 3:15 PM Break
3:15 – 3:35 PM YES13.0 Award ceremony
3:35 – 3:50 PM NECINA officer award and current president speech
3:50 – 4:00 PM NECINA president elect speech and closing remark
4:00 pm Business Showcase closes. All meeting activities finish.
Speakers
H.T. Kung
● William H. Gates Professor of Computer Science and Electrical Engineering and Vinton Hayes Senior Research Fellow in Electrical Engineering
Professor Kung is interested in computer networks as well as their applications in electronic commerce. Prior to joining Harvard in 1992, he taught at Carnegie Mellon, and led research projects on the design and experiment of novel parallel computers and switch-based networks.
At Harvard, Professor Kung teaches and researches in computer networks. Since 1999, he has been co-chairing a new joint Ph.D. program with the Harvard Business School on information technology and management. The first student class for this Ph.D. program started in the fall of 2000.
To complement his academic activities, Professor Kung maintains a strong link with industry. He has served as a consultant and board member to numerous companies.
Professor Kung's professional honors include: Member of the National Academy of Engineering; Member of the Academia Sinica (in Taiwan); and recipient of the Inventor of the Year Award by the Pittsburgh Intellectual Property Law Association in 1991.
In 2018, he was appointed as President of Taiwan AI Academy.
Lu, Shan, MD, PhD, MBA
Prof. Lu is currently a professor in the Department of Medicine, University of Massachusetts Medical School, USA.
He is a well-known world vaccine expert and the first Chinese scientist who brought an HIV vaccine into human clinical studies. His second generation polyvalent DNA prime-protein boost HIV vaccines is under clinical trial at 7 major US medical centers. His achievement in vaccine research has earned him a number of awards. His team has received over $60 million funding from US government and the Bill and Melinda Gates Foundation to develop an HIV vaccine. He has published close to 200 papers at leading scientific journals such as Nature, Lancet, NatureMedicine, PNAS.
He is the Editor-in-Chief of Emerging Microbes and Infections
(EMI) published by Nature. He has been a long time reviewer or a chair of the review panel for NIH's grants in the areas of vaccines and emerging infections.
He was a past president of the International Society of Vaccines and served as the chair of multiple annual vaccine congresses. He is also an honorary professor at China's Fudan University.
Dr. Subrata Das
Dr. Subrata Das is the founder of Machine Analytics, a company in the Boston area providing business analytics and data fusion consultancy services and developing customized solutions for clients in government and industry. Subrata is the consulting Chief Data Scientist at Alphaserve Technologies in NY. Subrata served as a technology consultant at MIT Lincoln Lab. Subrata's technical expertise includes mathematical logics, probabilistic reasoning, and a broad range of computational artificial intelligence and machine and deep learning techniques. Subrata is also an adjunct faculty at Northeastern University and at Villanova School of Business.
Subrata spent two years in Grenoble, France, as the manager of over forty researchers in the document content laboratory at the Xerox European Research Centre. In the past, Subrata led many projects funded by DARPA, NASA, US Air Force, Army and Navy, ONR and AFRL. In the past, Subrata held research positions at Imperial College, London, received a PhD in Computer Science from Heriot-Watt University in Scotland, and masters from University of Kolkata and Indian Statistical Institute.
Subrata has published many journal and conference articles. He is the author of five books including Computational Business Analytics, published by CRC Press/Chapman and Hall, and High-Level Data Fusion, published by the Artech House. Subrata has also co-authored the book entitled Safe and Sound: Artificial Intelligence in Hazardous Applications, published by the MIT Press.
Subrata has published many conference and journal articles, edited a journal special issue, and regularly gives seminars and training courses based on his books. Subrata served as a member of the editorial board of the Information Fusion journal, published by Elsevier Science.
Albert Ma
Mr. Albert Ma is the Chief Innovation Officer of Insigma Hengtian Software, Ltd. He has over 25 years of IT management and software development experience. Before joining Hengtian, Mr. Ma was the Chief Information Officer of the State Street Technology Center for several years in Hangzhou, China. He was the core team member in setting up the IT operation locally and migration of strategic applications to the Hangzhou office.
Mr. Ma graduated from the University of Queensland with a Masters Degree in Technology Management and an MBA from the Univeristy of Hull. He is a certified Project Management Professional and Certified IT Professional. As the company's Chief Innovation Officer, Mr. Ma manages the R&D and innovation activities of the company. He makes leading research efforts in technical solutions in Big Data Analytics, Cloud Computing, Mobile, Machine Learning and Software Engineering Automation.
Sandro Catanzaro
Sandro Catanzaro is Co-Founder, Chief Innovation Officer, and head of the Media Segment Division at dataxu. He has been at the company since 2007and resides in Boston, Massachusetts.
dataxu is a leading Digital Marketing Platform, helping its clients acquireTV, video and display advertising through TV sets, Mobile devices, and Desktops, leveraging machine learning and big data.
The dataxu Media Segment Division, develops and sells TotalTV, a unique solution that enables sellers of TV content to target advanced audiences within and outside their own inventory, with frequency control. Additionally, the team also develops the dataxu offering on Advanced TV, enabling advertisers, to access Connected TV, Addressable TV and programmatic linear TV.
Prior to founding dataxu, Sandro held positions at Bain & Company and NASA, where he straddled the worlds of business strategy and science strategy. Earlier he performed research on decision science at MIT, research that is the foundation for his co-invention of the real-time optimization the algorithm that lies at the core of the dataxu technology platform.
Sandro is a respected industry thought leader and is a frequent speaker at events such as Cannes Lions, dmexco and the NAB Show. His perspective on the future of marketing, ranging from Advanced TV to Advanced Analytics, has been influencing the industry for more than a decade. Sandro holds an MS from the MIT Sloan School of Management, an MS from MIT's Department of Aeronautics and Astronautics, and a BS in Mechanical Engineering from the University of Buenos Aires. Prior to attending MIT, he launched five businesses in South America, including a CPG company that was acquired by Unilever. He is bilingual in English and Spanish.
ANDREW ZHANG
CLOUD ANALYTICS ARCHITECT AT IBM
Andrew Zhang is a solution architect with IBM Analytics, his specialty is data science, machine learning and open source technologies such as Apache Spark and Hadoop. He consults clients in healthcare, life sciences, and public sector and provides cloud analytics solutions with IBM Watson Machine Learning, Data Science Experience, and Watson Data Platform etc. Andrew has 15+ years industry experience in both Internet startup and Fortune 500 companies. He is currently based at IBM New York office.
JASON GENG
CHAIR OF BOARD AT IDEAS
As committee chair of International Data Engineering and Science Association (IDEAS), Jason organized series of AI and data science conference at Dallas, Chicago and Los Angeles. Jason is adjunct professor at University of Southern California. When worked at Symantec, Jason designed and built many AI and big data applications.
NECINA Member
, please use your member email address as the code on the checkout screen to receive
100% discount
. Join NECINA for only $40 per year at
https://www.joinit.org/o/necina-boston
and enjoy all the membership benefits (free/discounted price for all NECINA events, exclusive networking opportunities and more).
Wechat Contact: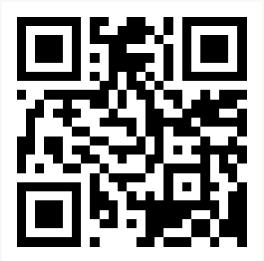 https://www.eventbrite.com/e/necina-2019-annual-conference-digital-transformation-abc-tickets-61301873554