20th Anniversary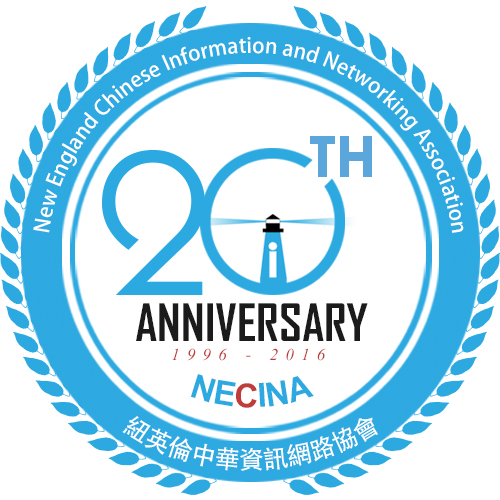 This year marks NECINA's 20th Anniversary! Along with this, we will host our 2015-2016 annual meeting, as well as the YES program's 10th Anniversary. The annual meeting will take place in the afternoon, and the celebration will follow at night. This will be an memorable day for NECINA members, officers/volunteers, sponsors and partners.
Please join us for this momentous occasion on June 18 at Boston Marriott – Burlington.
The preparation work for this event started over a year ago when NECINA's founding member, Wufu Chen flew to Boston to deliver his big donation check (http://bit.ly/1p6IaMT) . During the meeting, Wufu reviewed his investment activities and pointed out that most of his investments were not in high tech communication (his domain expertise) , but healthcare related startups. Thus, Wufu further proposed to use this "Quality of Life" theme for the 20 anniversary celebration.
Since then, as a working routine of NECINA, we have set up a celebration prep team with combined board and officer team members, and NECINA alumni all over the world. We are working diligently to create an unforgettable event for the years to come.
So what is "Quality of Life"? We will use this special column to invite former NECINA presidents and significant contributors to share their experiences and cast their views..

Message from John Wang – NECINA President 2015-2016
It is amazing that NECINA has been around for 20 years! I am honored to be the president during this notable time and will try my best to share my experience and view.
I moved to Boston in 2012 and joined NECINA at around the same time. Therefore, I may be the youngest NECINA president relevant to the duration of my involvement. I briefly introduced my background and NECINA's influence on me in the 2015-2016 President's Letter (http://necina.org/letter-from-the-president-2015-2016/).  If I have to name the most influential NECINA person that has impacted me, it would be Mingsheng Hong, who was the 2012-2013 NECINA President and the youngest one in NECINA's history. I was so impressed by his passion, dedication, unselfishness and capability. It is through these attributes that have inspired me on how to lead NECINA this year.
Now after about three quarters into my presidency, and with the preparation process to celebrate the 20th anniversary, I have a more profound understanding of NECINA's vision and culture.
NECINA is a technology and entrepreneurship focused organization. Many of our members are technology or business professionals. However, we also teach people that technology or money is not the most important focus when you are starting up a business. So what is the most important thing?  It is the quality of life!
"We're here to put a dent in the universe. Otherwise why else even be here?"
-Steve Jobs
We work hard for our jobs or businesses, but there must be something more that innately drives us. I believe that meaning is presented when we set the foundation of the business to improve the quality of life. This is the basis on NECINA's existence and purpose when it was founded 20 years ago. Throughout my four years with NECINA, I have seen this organization strive to improve the quality of life for its members, volunteers, and all stakeholders. With 20 years' accumulation of hard work in the right direction, today, NECINA is great in brand equity, strong in organization, and rich in resources to assist those that have come across our path.
The meaningful impact NECINA provides makes it easier to work with my NECINA teammates and sponsors in serving our member base. I believe the 20th anniversary will make NECINA greater, stronger and richer for the years to come and I look forward to celebrating this momentous occasion with you.
Go NECINA!
John Wang
NECINA President 2015-2016
Message from Ben Tao – NECINA President 2014-2015
Shortly after NECINA's 2014 annual meeting, I returned to China for a personal trip. I met with a group of friends who returned from Boston in early 2000s. Many of them developed very successful careers and are now leading global companies in China. I was planning the China Conference at that time and hoped to introduce NECINA to get help. To my great surprise, my friends not only knew about NECINA, they started to recall the conferences, the outings, and how NECINA helped them. They wanted to offer whatever help they could. Having been a long time NECINA volunteer, I know many NECINA members, but still I did not realize NECINA had such a great impact on some of my closest friends and they remained passionate about NECINA after being away for so long. I think that is a big reason why we are hosting the 20th anniversary. We are such a strong organization whose values and spirits transcend the boundaries of time and geography. I look forward to meeting with all our alumni not only to reminisce about the past 20 years but also to embrace the next 20 years!
Message from Mingsheng Hong – NECINA President 2012-2013
Sincere congratulations to NECINA on reaching the incredible milestone of the 20th anniversary. Even as the teams and programs evolve over the years, the culture and spirits of exploring technical frontiers and identifying business opportunities in a collaborative setting have remained the same. Volunteering at NECINA was one of the most memorable and rewarding segments of my professional and personal life. I can't wait to see what the next 20 years would look like. Go NECINA!
Message from Sean Shen – NECINA President 2011-2012
Congratulations to NECINA' 20th anniversary! NECINA is deeply rooted in the Chinese professional communities, benefit from the environment of vibrant high tech start-up companies, enterprise and institutes around the Greater Boston area.  In twenty years, we have been carrying out out mission and making contributions to the success business and career development of our members and beyond.  All the achievements would not be possible without the efforts hundreds of dedicated volunteers.  I am very proud of being one of them.  Moving forward, NECINA will continue its great tradition and provide more innovative programs to deliver tangible values to our members as well as our sponsors.  Cheers!
Message from Jenny Chen – NECINA President 2010-2011
Dear NECINA Colleagues and Members,
Time flies when you are having a fun! It was amaze that NECINA has been established for 20 years since it was founded in June 1996!
It's my honor to be recruited into NECINA founding team by Edward Soong who is my mentor at WANG Laboratories Inc when I was a UN visiting scholar there. This is gave me a great opportunity and unique platform to gain experience in participating management and Board member team at non-profit organization in USA.
During the past of 20 years, while growing up with NECINA team, I have learned a lot from NECINA spirit leaders like Wufu Chen and Cheng Wu, plus all presidents who had lead the management team to enforce NECINA's mission, provide comprehensive programs and quality service to members every year.
We are very proud of NECINA's hot topical of tech conferences, YES and NEW programs, entrepreneurs club. In addition the summer outing and Yuanxiao party of the social events with human touch.   These attractive and empower our members to pursue their dreams; deepens their technical expertise, improves their leadership and management skill significantly.
NECINA is not only a place where Professionals & Information are networked (This was our original slogan) but also a place where resources are well mobilized to make our dreams come to be true!
Present, many young generation played main role at NECINA, we hope while you are creative and innovate,  NECINA's traditions and spirit are always the guidance forever!
Let's work together to have most  glorious NECINA's 20th Anniversary Celebration on June 18th, 2016 to make the  significant milestone on the NECINA history!!!
Very Truly Yours,
Jenny (Junyao) Chen, NECINA 15th President 2010-2011
Board Member since  2000—Present
Message from Jimmy Wang
NECINA is a wonderful platform for everyone to grow as a professional. One comes to NECINA to pick up the hottest trends in technologies, meet people for career opportunities, or build teams for startups. A volunteer comes to NECINA will gain even more. He gets hands on training that will take his networking and leadership skills to an entirely new level. I can go on and on about what NECINA brings to her members. To make it simple let me just say, "Come to NECINA, you won't regret!"
Message from Wufu Chen
20 年前,在離開波城前夕和幾位熱心公益的好友成立的NECINA. 在各位會長的努力耕耘之下,如今已是New England 數一數二的Professional Association. 完全出乎我的意料之外。在此向歷屆的會長和工作人員致上十二萬分的謝意,也祝福NECINA 的未來20年能更上一層樓
NECINA 情竇初開
眾社友欣喜滿懐
老會長矽谷作怪
願社團越久越high
Message from Nick Ning
Go build tech barriers!
Organized we bridge China!
New friends, new careers!
Enter the dragon entrepreneurs!
Come! Come! Come to NECINA!
In heart we love you volunteers!
New teams, new ventures!
Anniversary happy 20 years!
!!!!!!!!!!!!!!!!!!!!!!!!!!!!!!!!!!!!!
Think big! Dream big! Let's build the best organization and companies in the world, around the world!
Image: